How to choose a collar
1. Decide on collar style (prong or flat collar)
Please read the page below showing all your collar options. Pictures of the prong sizes are shown below as well.
2. Measure your dog
Please watch our videos Measuring and Correct Fit and How to size your Keeper Collar to determine what size you need.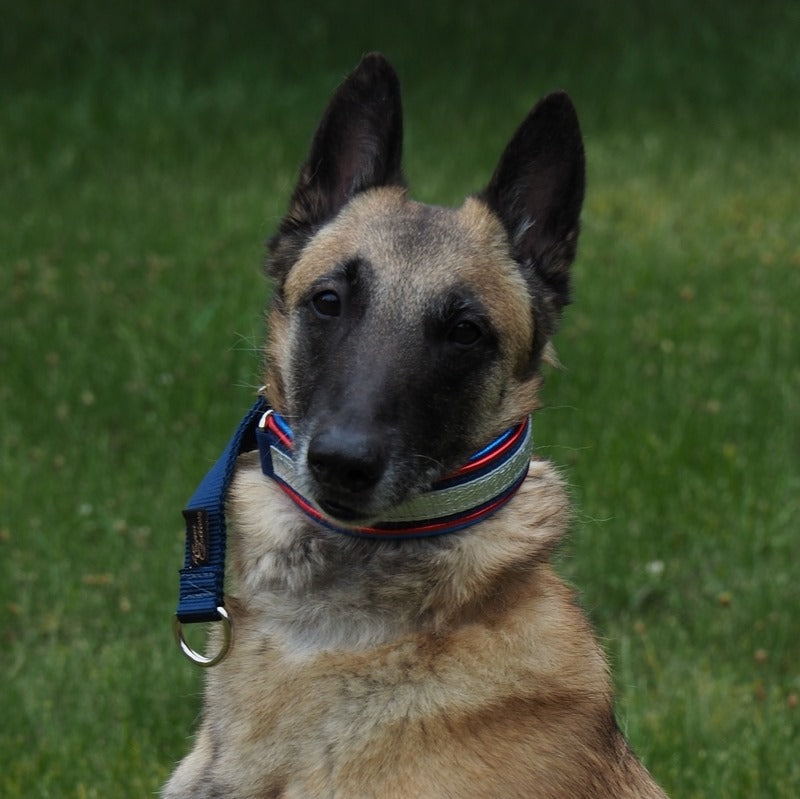 Collar Styles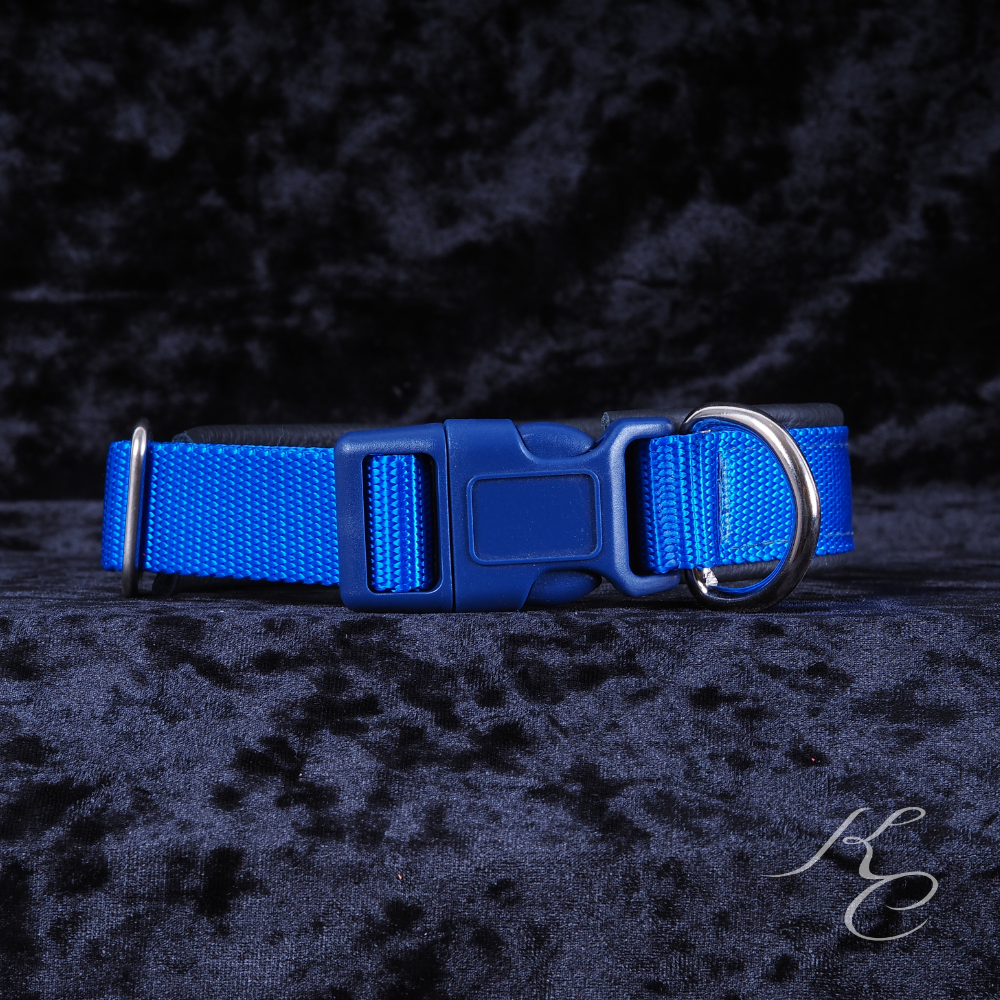 Standard Flat Collar
The Standard Flat Collar is our most basic collar. Sliding metal double ring for size adjustment and includes a leash/ID tag ring.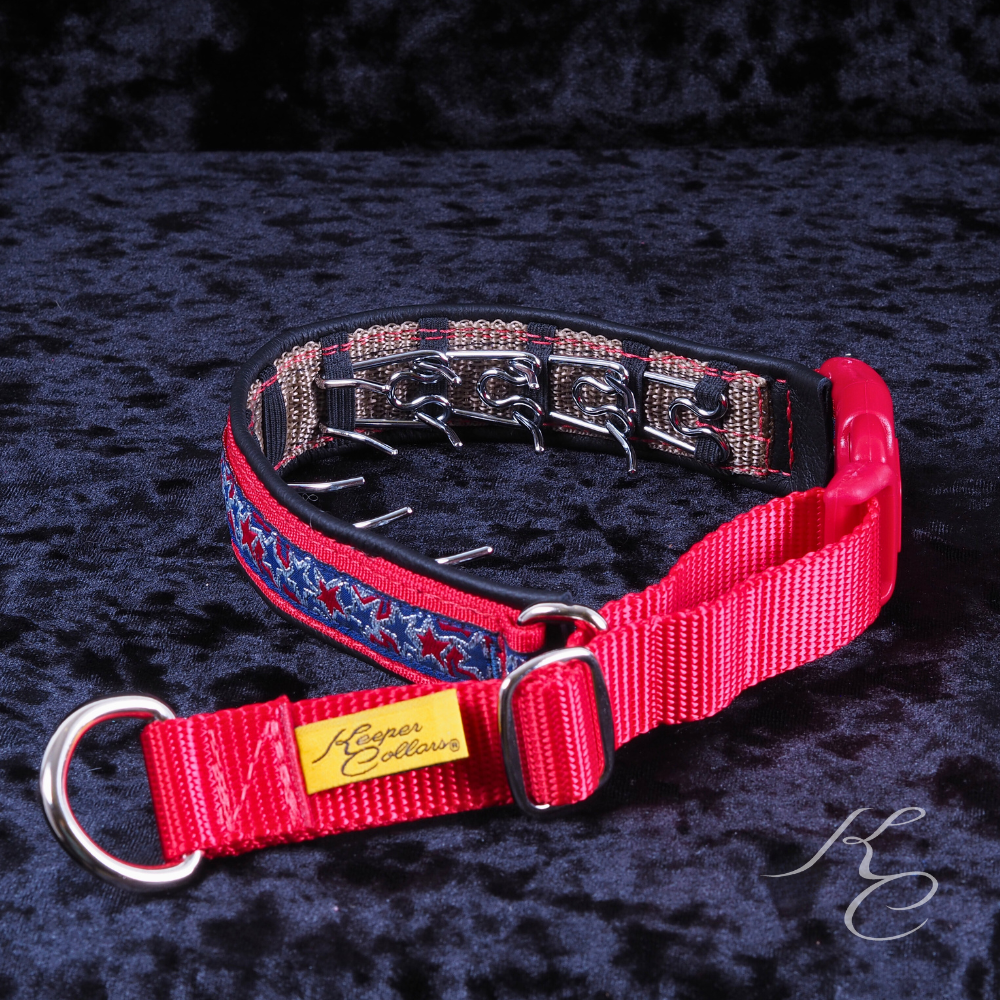 Hidden Prong Collar
The Keeper Hidden Prong collar. Featuring a snap buckle and adjustable tug so that the collar can be custom fit to your dog and remain high on the dog's neck without being too tight. Middle prong gap to protect the dog's trachea.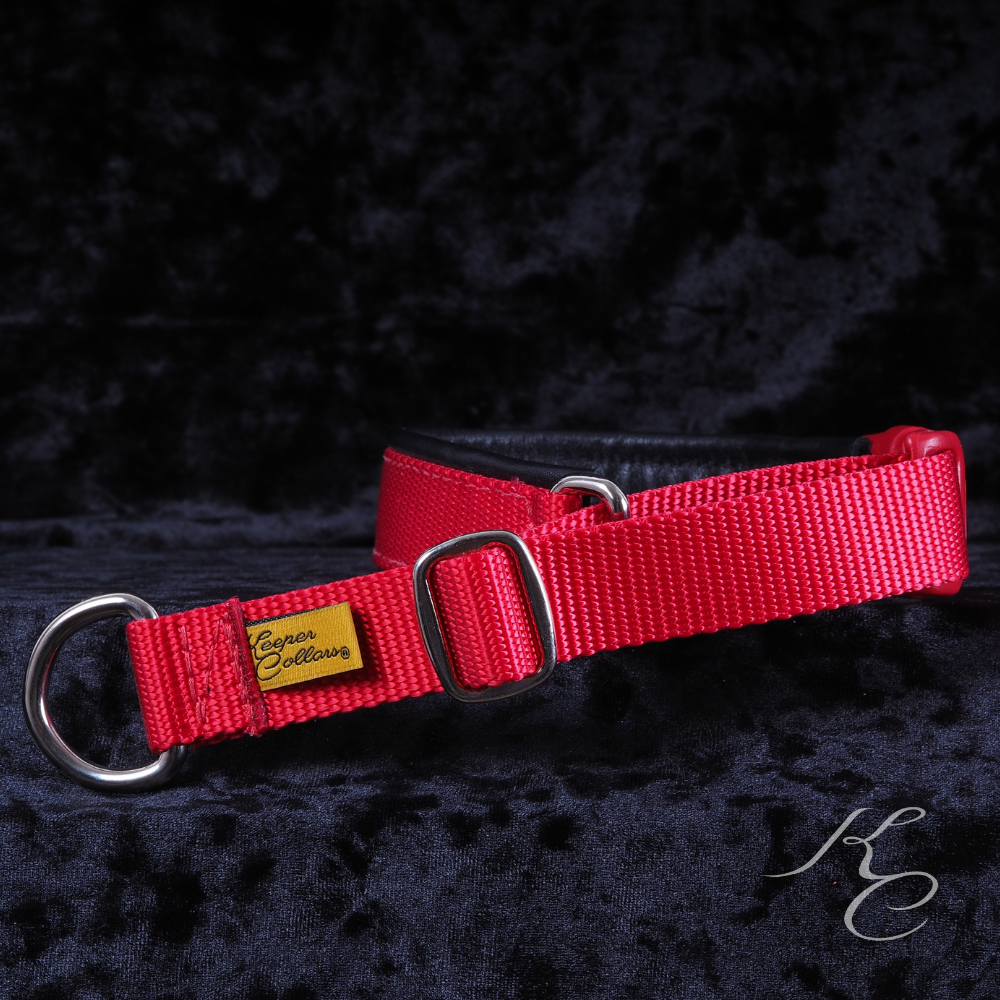 Keeper Style Martingale
The Keeper Style Martingale uses the same tug design as the Keeper Hidden Prong collar with a sliding metal double ring that allows you to change how far the martingale can loosen. Available with or without a plastic snap buckle.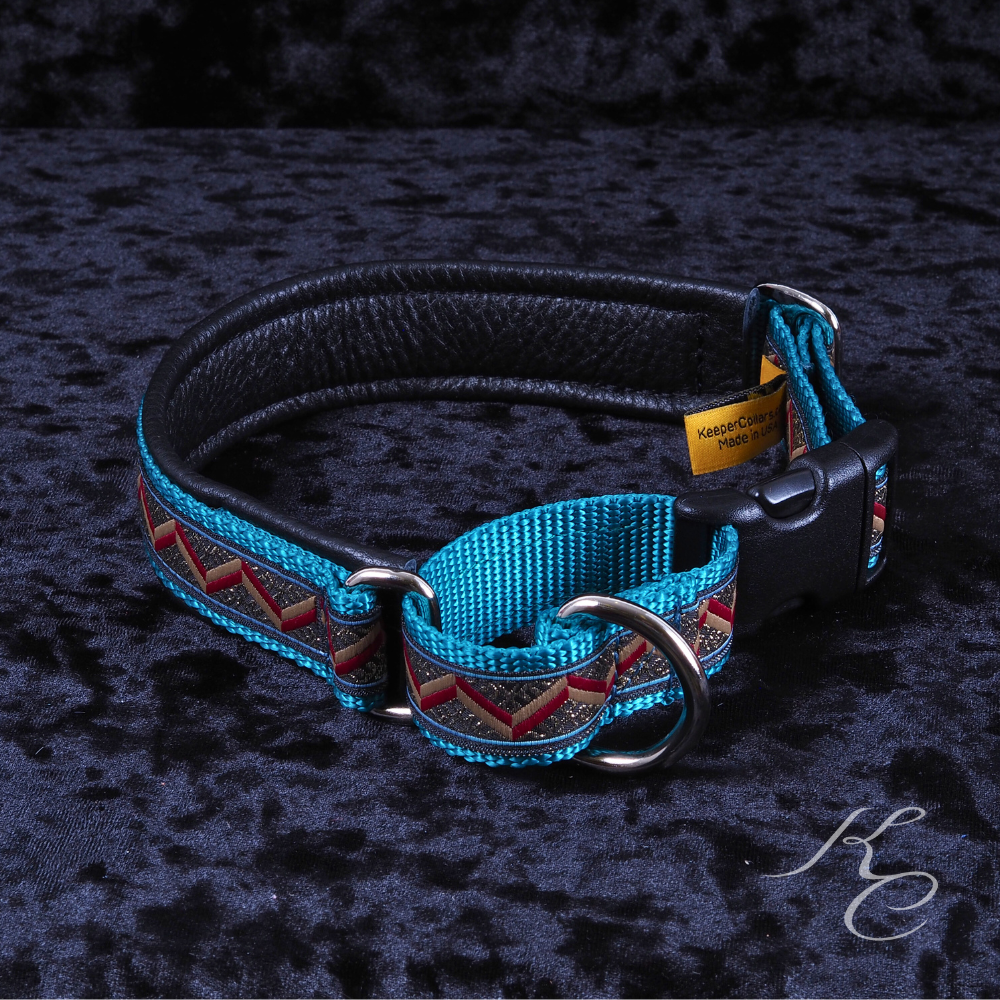 Loop Martingale
The Loop Martingale. This is a more traditional martingale design with a loop of nylon webbing with no adjustment slide as in the Keeper Style martingale. Because there is no adjustment slide, we can include matching ribbon on the loop. Available with and without a snap buckle.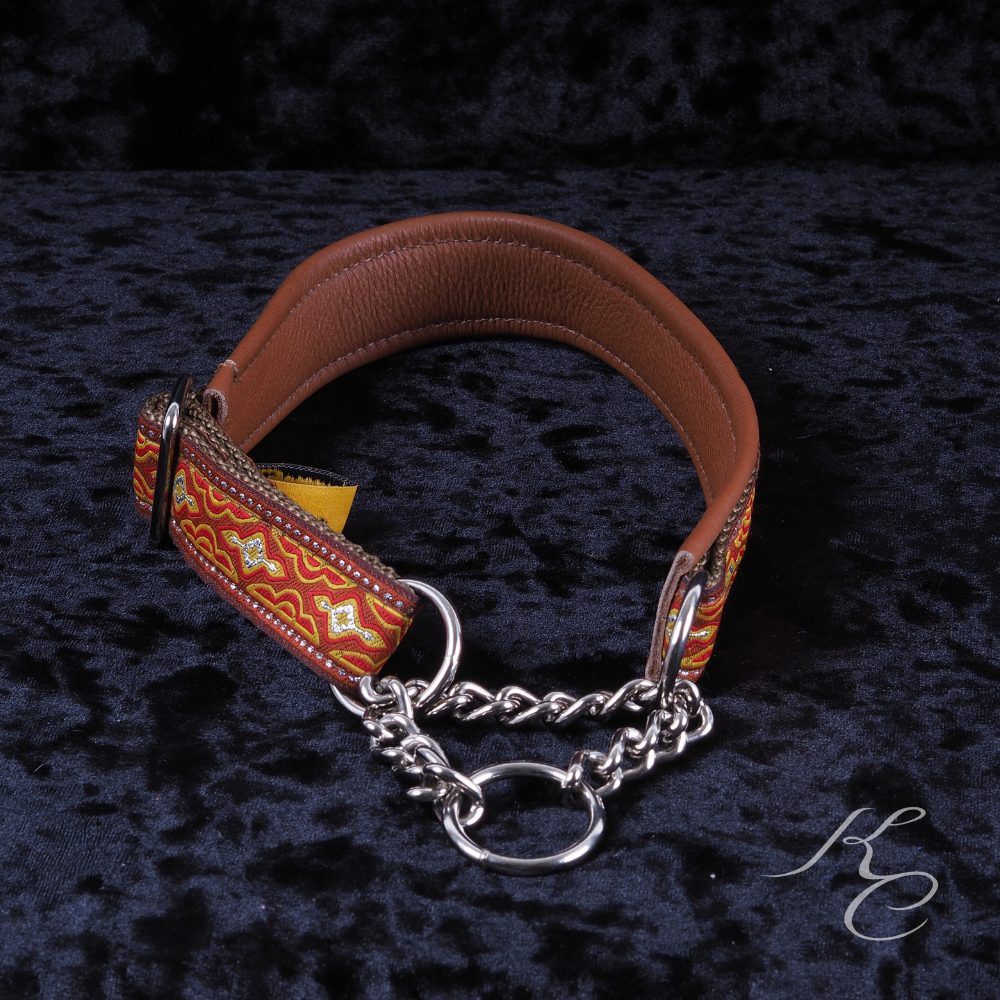 Chain Martingale
Functions like the loop martingale, but replaces the webbing loop with chain. Offered with or without a snap buckle. Available in chrome only.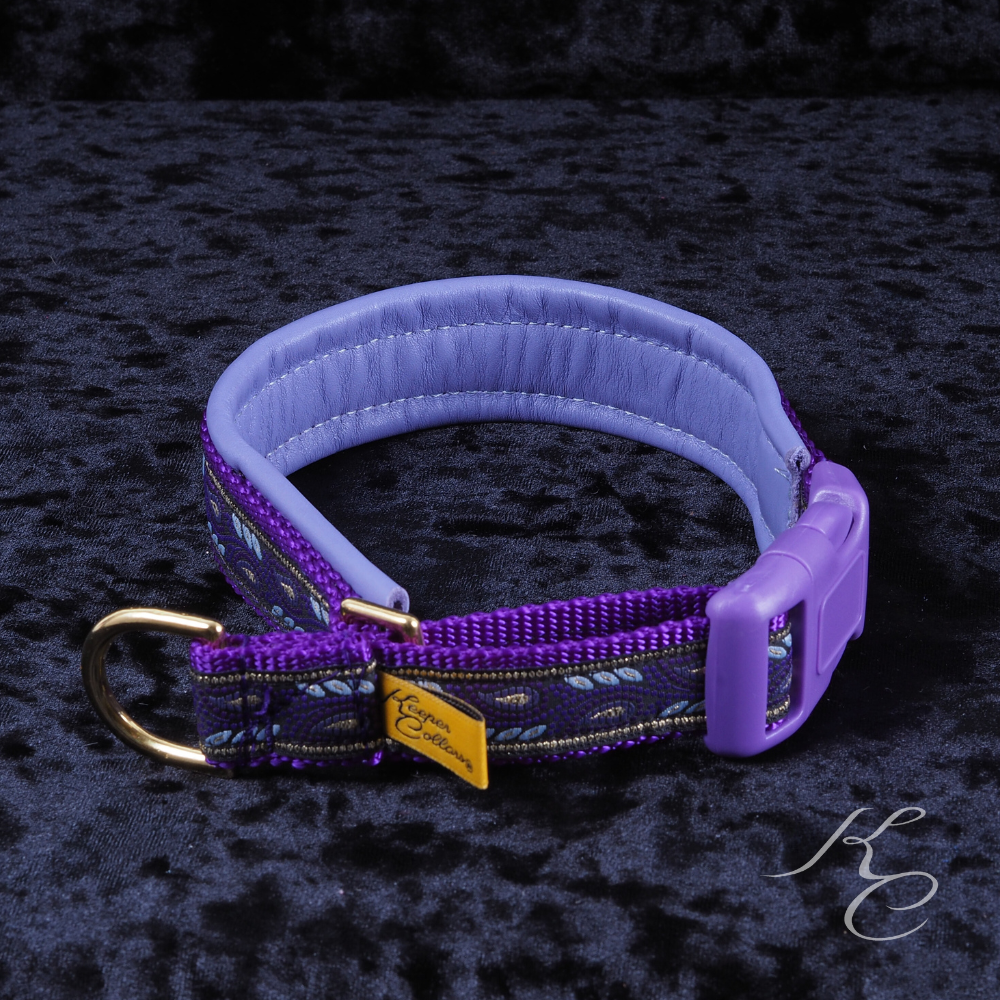 Vegas Style Martingale
The Vegas Style martingale. This is a limited slip design that features a tug that pulls in one direction rather than from the center. Vegas Style collars feature a matching ribbon on the tug. Available with or without a snap buckle. There is no size adjustment to the Vegas Style.
Fitting your collar
Here's Kit, the Belgian malinois, being measured. Measure just under the jaw and behind the ears. The measurement should be snug, not tight. When we build the collar, we will add the necessary slack into the collar so don't worry about it being too small. As you can see, Kit measures 15 inches.
View sizing videos

KC Standard Prong Sizes
Our most popular standard prong size is our medium prong (2.3mm), we also carry a large size prong (3.2mm) and micro prong.
All of our available
Prong Options
Described left to right.
Our standard micro prong, 'Low-Pro' low profile medium prong (ideal for short coated breeds), dark brown medium prong, matte black medium prong, stainless steel medium prong, our standard medium prong and our standard large prong.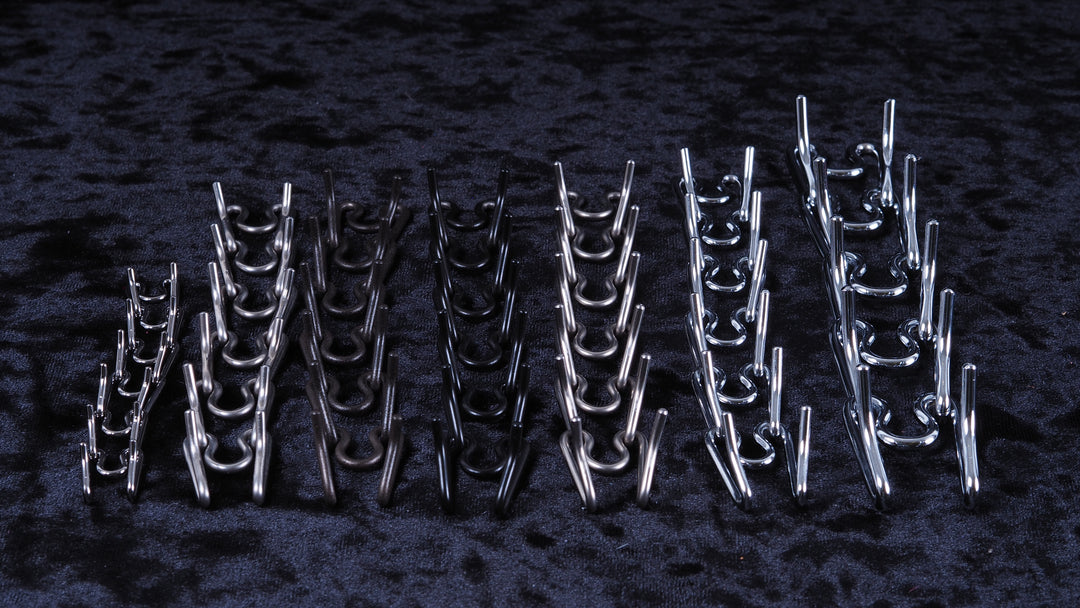 Additional Options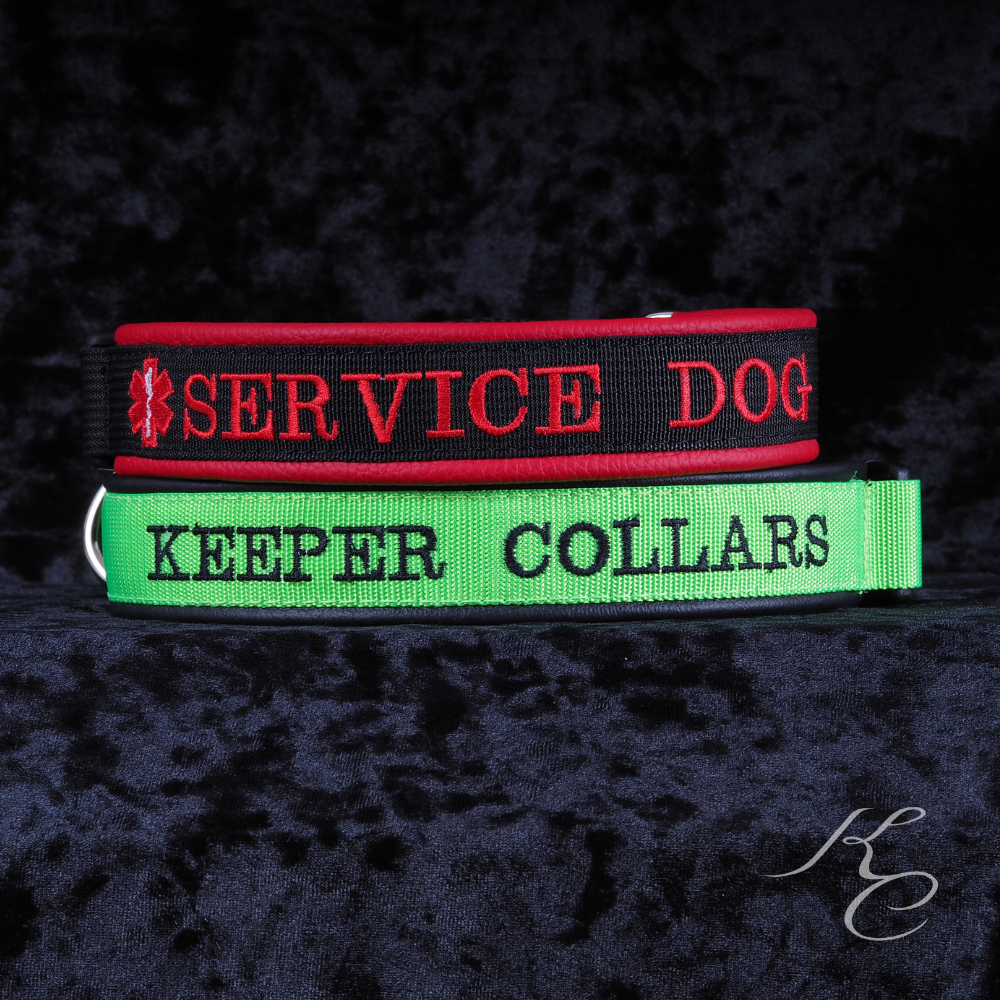 Embroided Collars
Embroidery, up to 14 charaters, available for our custom hidden prong collars and custom standard flat collars.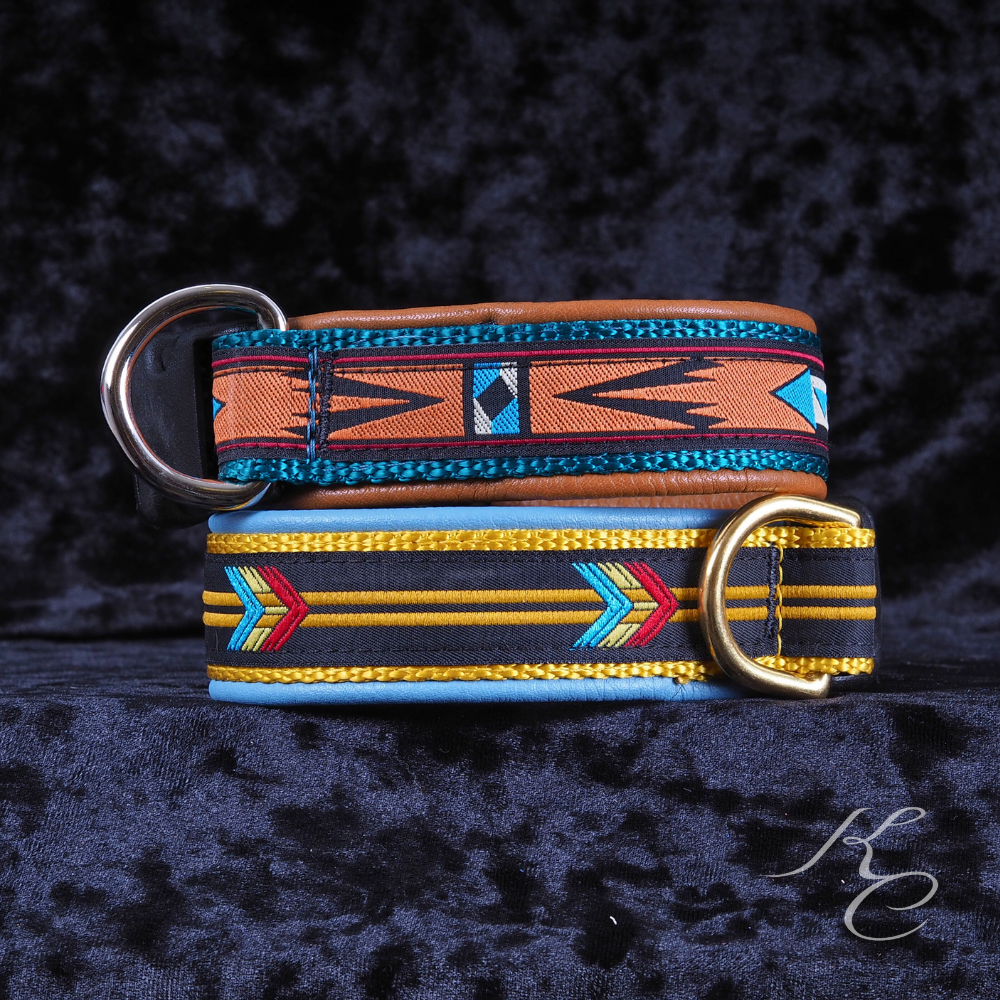 Hardware
Brass or chrome hardware available for every collar style.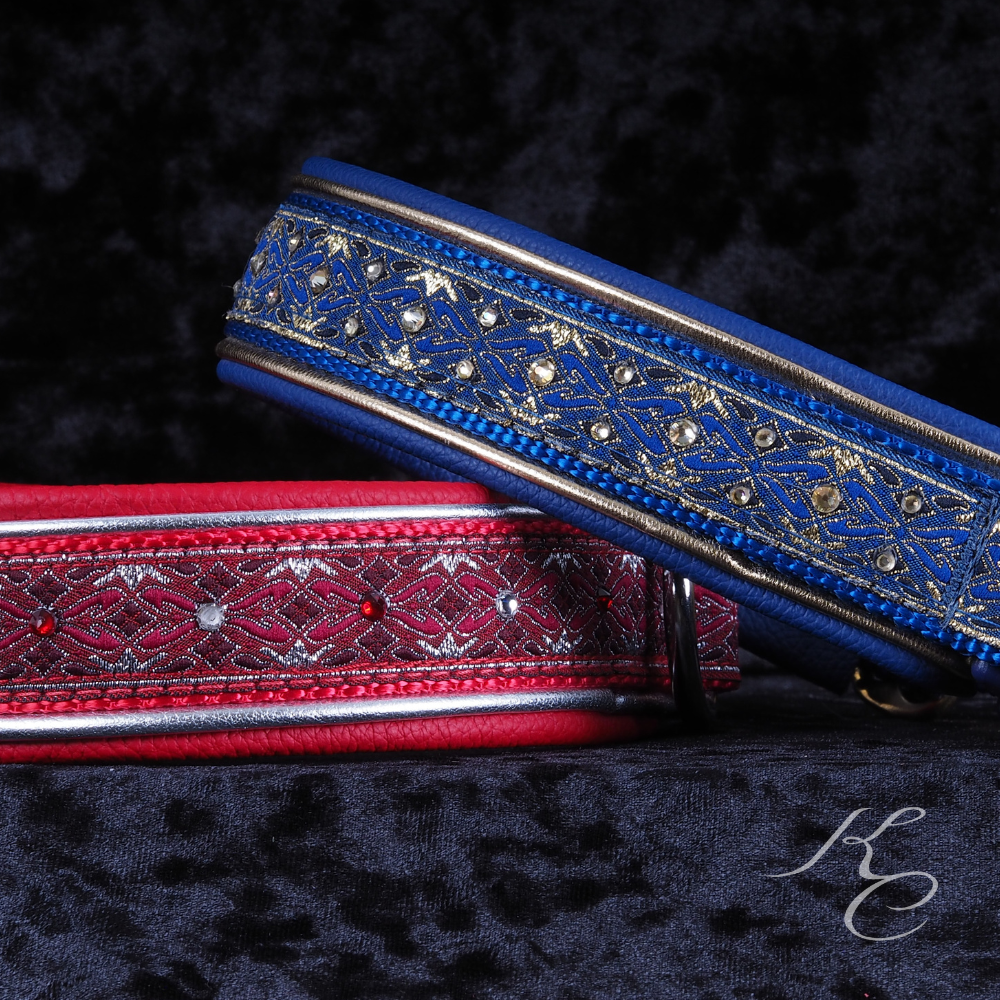 Swarovski Crytals
Swarovski crystal embellished collars.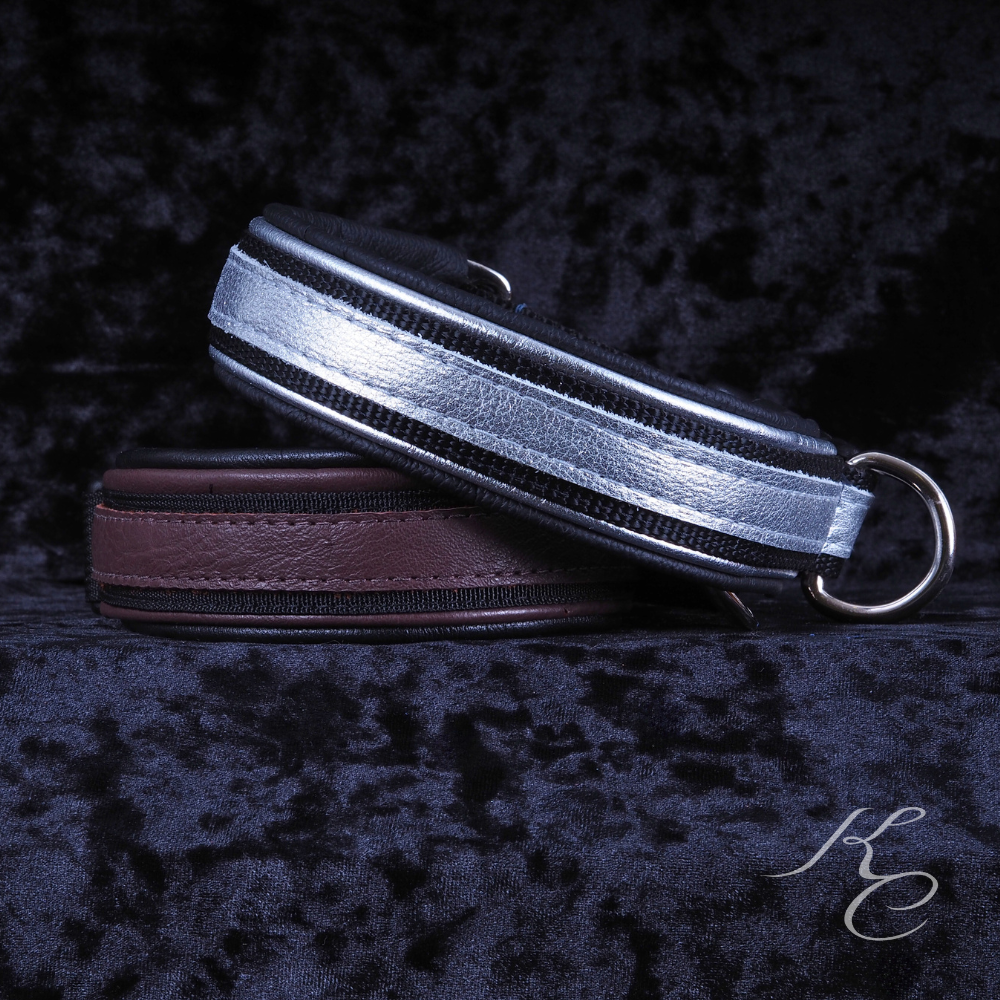 Stacked Leather
Double or triple stacked leather layers.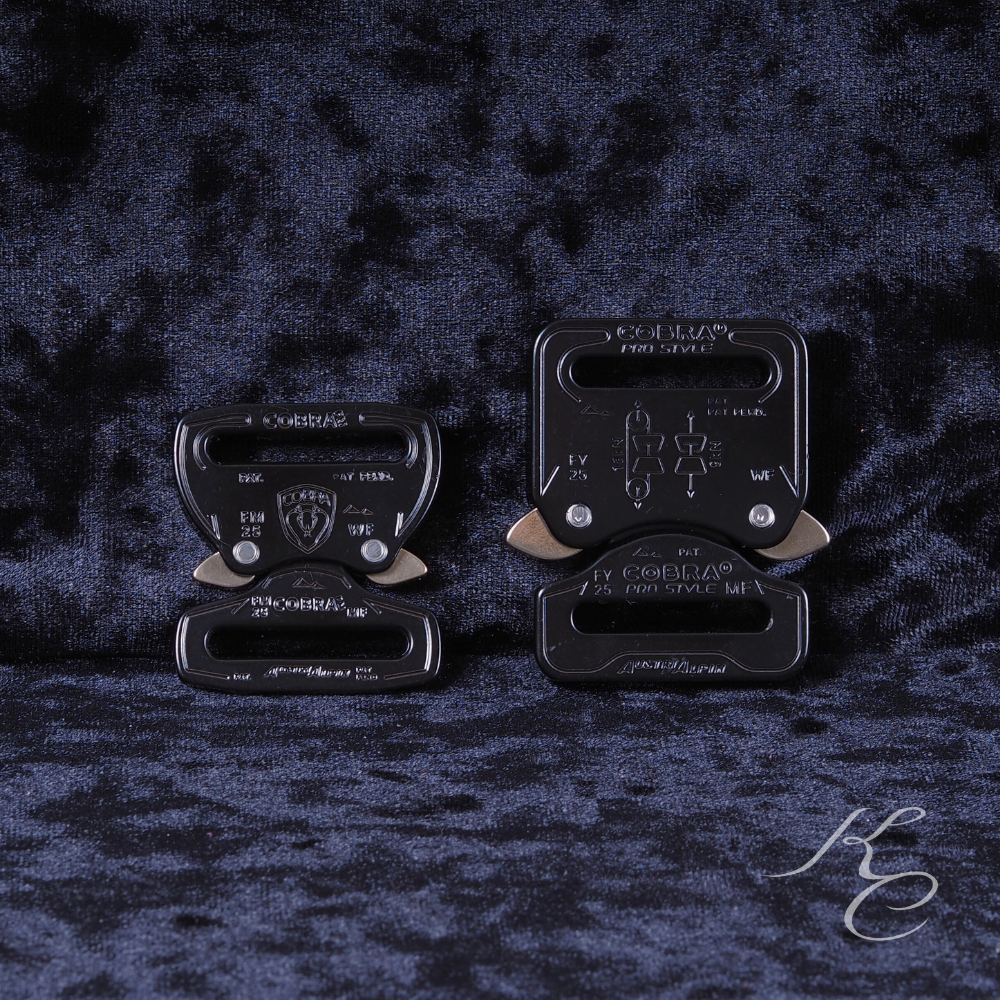 COBRA® Buckles
Extra strength collar buckles, tested up to 2000 lbs.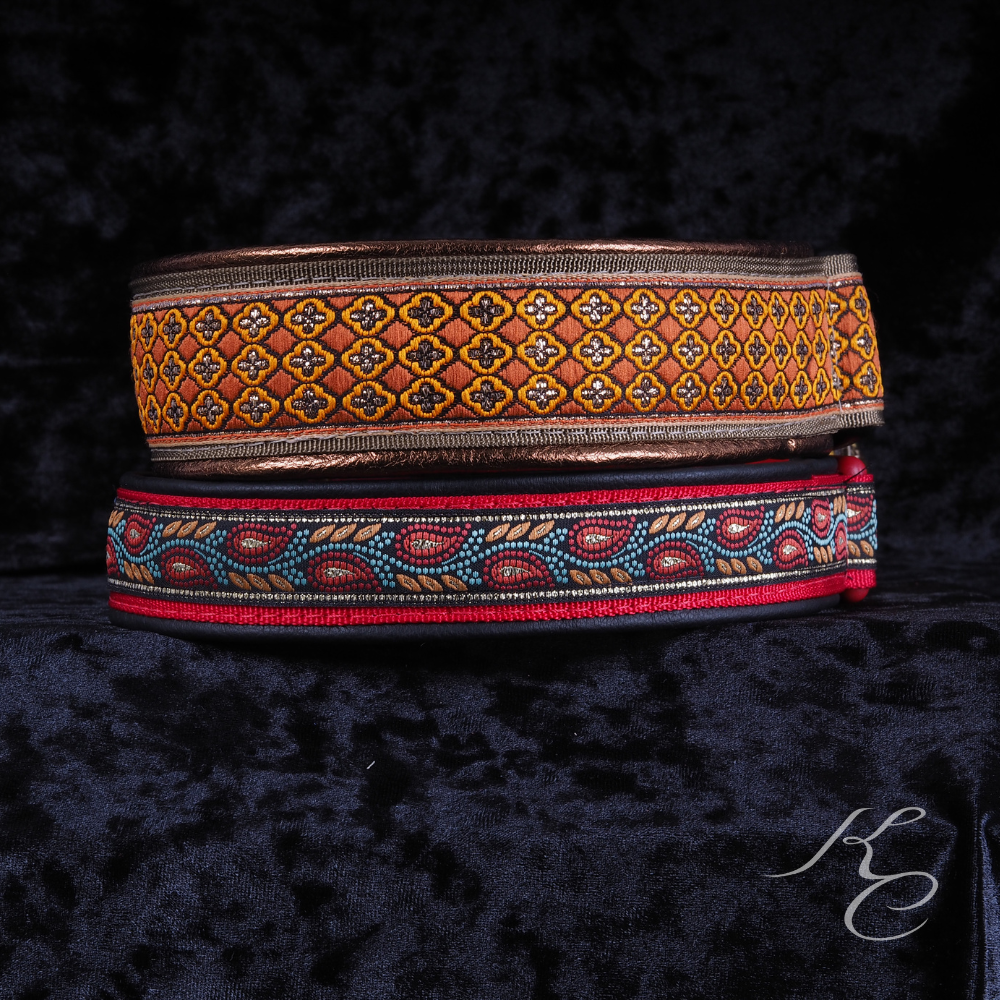 Ribbon
Hunderds of ribbon options available in several widths.
Leather Buckle
Replaces the snap buckle with a heavy duty leather strap and buckle.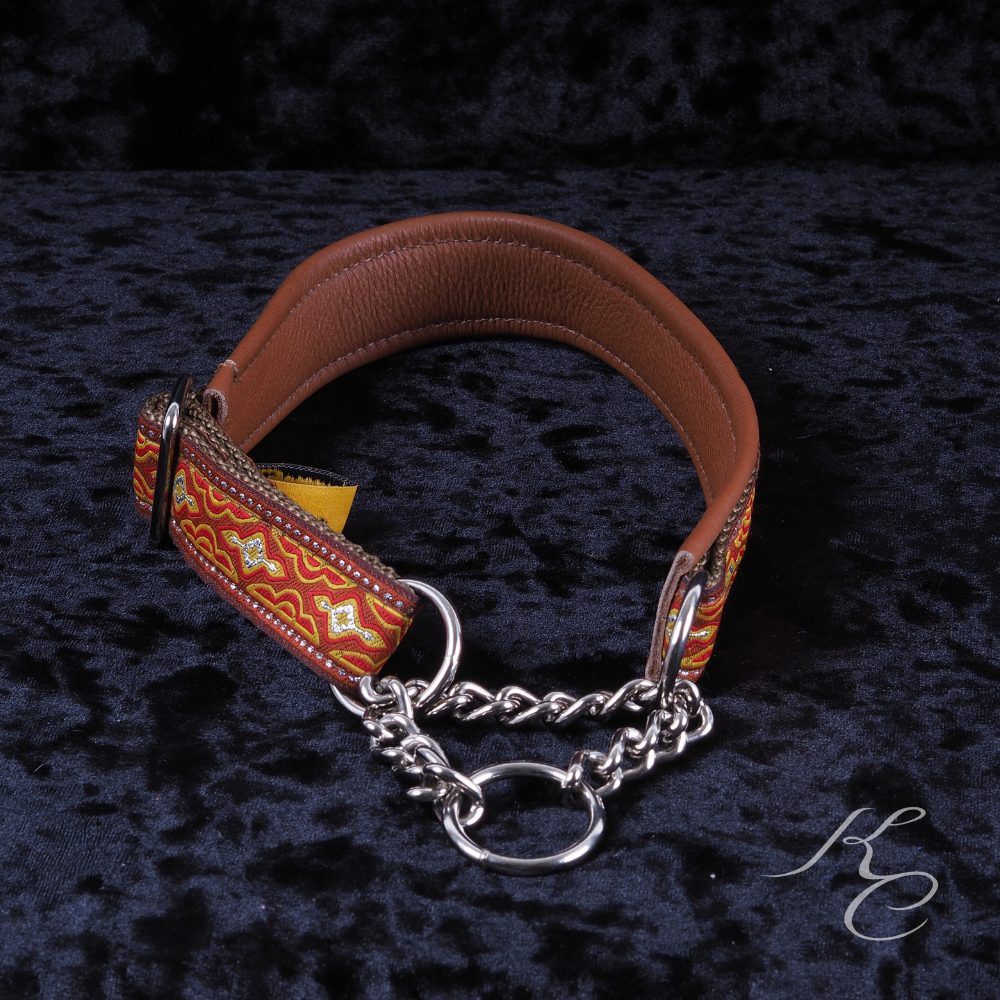 Chain Martingale
This option replaces the nylon web martingale with one made from chain.